Kolač sa višnjama
Date: Jun 25, 2013. | Category: Desserts | Cuisine: Serbian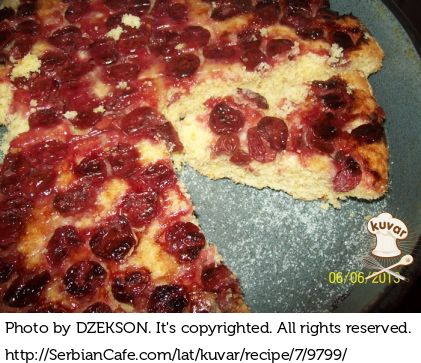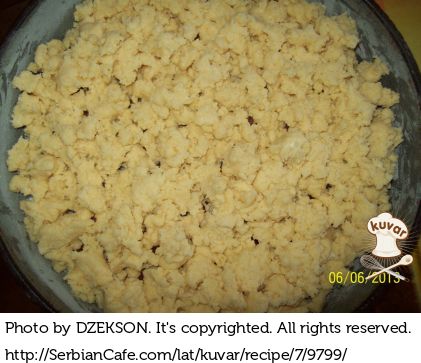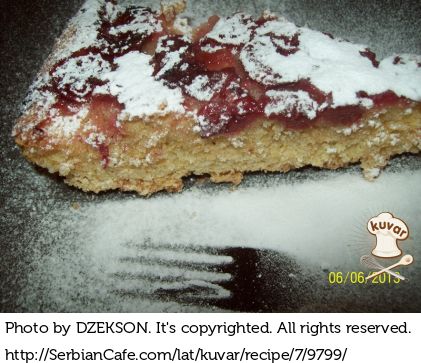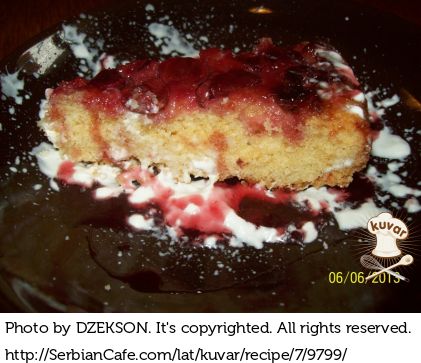 Skill Level

Easy
Prep Time

15 minutes
Total Time

45 minutes
Introduction
Cesto pravim kolače sa višnjama zato sto ih moj muz voli, a i ostalo mi u zamrzivaču, da se ne baca. Ovaj zadnji sto sam pravila nije odusevio mog muza, ali meni se dopao. Ko želi da ga pravi, treba da zna da se radi o testu koje se "runi", nešto slično gledala sam na 24 kitchen, gde su kolač vruće ispečen lomili i jeli.
Ingredients
Potrebno je:
1
margarin ili puter
200 g
šećera
400 g
brašna
1
prašak za pecivo
2
jaja
višnje
Method
1
Umutiti mikserom omekšali margarin, dodati šećer i jaja, pa mutiti da se izjednači. Na kraju dodati brašno pomešano sa praškom za pecivo i umutiti. Dobicete mrvicasto testo, neka vas to ne brine.
2
Za pečenje ovakvih "prostih" kolača, koristim okruglu tepsiju r-28. Na dno tepsije sam stavila papir za pečenje koji sam posula šećerom, preko nabacala višnje, a preko njih nabacala testo, onako u krupnim grumulicama.
3
Peći na 200° oko 30-35 min. Pečeni kolač okrenuti naopako. Možete ga seći na kocke ili kao sto sam ja to cinila, možete ga služiti sa šećerom u prahu ili sa prelivom od nekog slatka i sa malo šlaga. A, takodje, i ne morate ga okretati, možete ostaviti da višnje budu dole, kako god vam se svidi.
4
Uzivajte!
People who like this recipe
Comments
Rösti je tradicionalno švajcarsko jelo od naribanog i prženog krompira, veoma jednostavno za pripremu i…
Još jedno jelo koje su deca smazala u dahu… a meni u ovim tmurnim danima morska hrana diže raspoloženje…
Delphine je francuskinja koja u Hrvatskoj živi od 2001. godine, a od 2011. vodi svoj kulinarski blog u kojem…