Genijalne tortilje
Date: Mar 15, 2014. | Category: Main Dishes | Cuisine: Mexican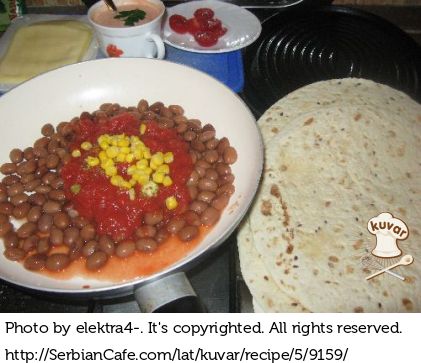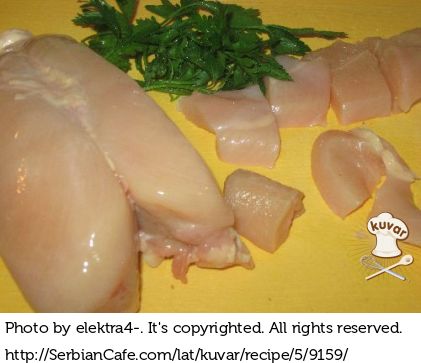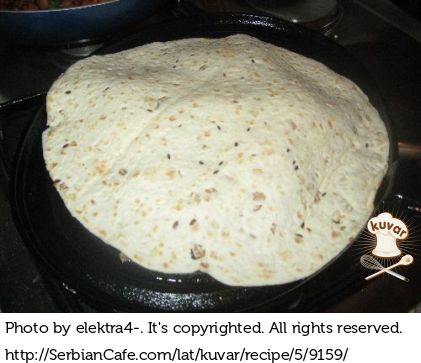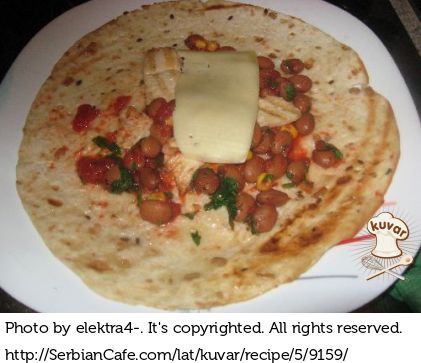 Skill Level

Easy
Prep Time

5 minutes
Total Time

30 minutes
Introduction
Ovaj recept je nastao nakon dugog istraživanja koja verzija punjenja je najbolja, tortilje su kupovne, ali recept za njih možete naći u kuvaru. Koristim roštilj tiganj jer mi je najpraktičniji.
Ingredients
1 komad
pilećeg belog mesa
200 g
pasulja iz konzerve
100 g
kukuruza iz konzerve
so
biber
seckani peršun
4
gotove tortilje
4 komada
sira trapista
Premaz od jogurta:
1 dcl
čvrstog jogurta,
biber
so
beli luk u prahu
aleva paprika (po okusu)
Method
1
Meso narezati na manje komade i peći na malo ulja zagrejanom tiganju.
2
Poklopiti većim poklopcem da ne šprica.
3
Kad je meso skoro gotovo posoliti ga, poklopiti ga tortiljom i okrenuti je sa obe strane da omekša i upije malo ulja da se može savijati.
4
Za to vreme pripremiti punjenje:
5
200 g pasulja iz konzereve istresti u posudu, dodati 200 g seckanih paradajza iz konzerve i lagano krčkati oko 10 min, dodati malo kuvanog kukuruza iz konzerve, seckani peršun, so, biber.
6
Staviti tortilju na veći tanjir, na to staviti par komada mesa pa punjenje i preko toga komad sira, saviti tortilju 2 puta i ponovo staviti da se zapeče, ali prvo onu savijenu stranu da se bolje zalepi i ne rastvara.
7
Servirati premazano kašikom jogurta.
People who like this recipe
Comments
Rösti je tradicionalno švajcarsko jelo od naribanog i prženog krompira, veoma jednostavno za pripremu i…
Još jedno jelo koje su deca smazala u dahu… a meni u ovim tmurnim danima morska hrana diže raspoloženje…
Delphine je francuskinja koja u Hrvatskoj živi od 2001. godine, a od 2011. vodi svoj kulinarski blog u kojem…